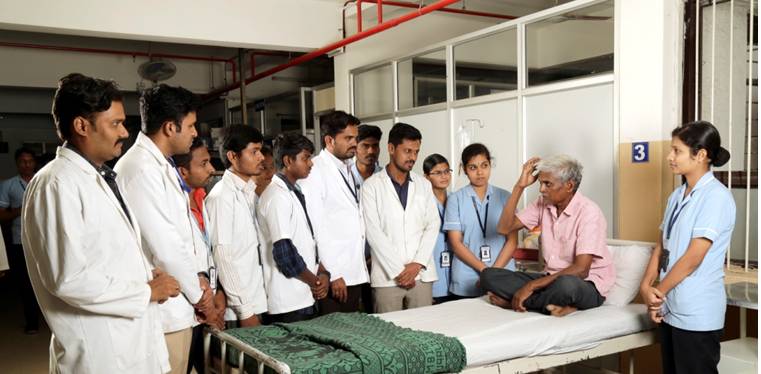 Home > Academics > Departments
Department of Mental Health Nursing
This department deals with diagnosing and managing patients suffering from mental illnesses and provides students with adequate theoretical and practical orientation on the subject. Students are also sent to mental health institutes in Karnataka and Maharashtra to get an overview of mental illnesses, their cause, and treatment method.
Vision
The psychiatric nursing department's vision is to offer support, guidance, and advice to faculties and students to develop leadership quality in academic and practice role, further assisting in demonstrating innovation in teaching-learning activity methods.
Objectives
To provide an opportunity to share information and ideas.
To offer support guidance and advice to faculties and students.
To promote a milieu that fosters the development of leadership roles.
To provide a forum to carry off projects.
To work in collaboration with the community.
To conduct an awareness programme.
To supervise and monitor the activities of subordinates.
To educate nurses for leadership in academic and practice role.
To demonstrate innovation in methods of teaching-learning activity.
Periodically review and evaluate the students.
---
Faculty Members
| | | | |
| --- | --- | --- | --- |
| Sl. no | Name of the Faculty | Designation | Photo |
| 1 | Mr. Nazeersab G. Balagar | Assistant Professor and  HOD | |
| 2 | Mr. Appanagouda Patil | Assistant Professor | |
| 3 | Dr. Amitkumar Biradar | Assistant Professor | |
| 4 | Mrs. Reshma Chavan | PG Nursing Tutor | |
| 5 | Mr. Somanath Dindur | UG Nursing Tutor | |
| 6 | Ms. Reshma Ganvari | UG Nursing Tutor | |