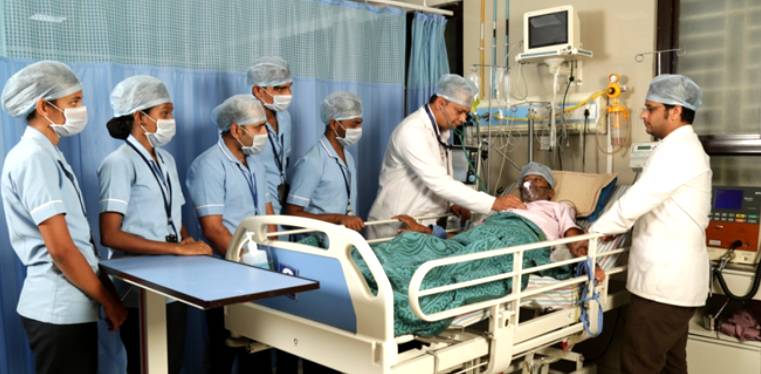 Home > Academics > Departments
Department of Medical and Surgical Nursing
This department gives students specialized knowledge of various medical & surgical conditions, biological factors, diagnostic procedures and treatment models. Besides classroom training, students are given insights into modern surgical procedures at the teaching hospital. Here, students are also taught to handle sophisticated equipment such as ventilators, defibrillators, and other clinical care equipment.
Vision
To facilitate the development of competent professionals who demonstrate excellence in the nursing practice, education, administration and research.
Objectives
To produce graduates with specialized knowledge of nursing, enabling them to provide comprehensive nursing care to all age groups in all situations both within the hospital and in the community.
Offering a well designed and well-supervised teaching and clinical training programme.
To enable and empower students to utilize the latest technological innovations to provide quality healthcare, as well as to conduct result-oriented studies in various settings and use the research findings to improve the quality of nursing care.
To communicate effectively with individuals and groups, and members of any health care team to promote effective interpersonal relationship and collaborative work.
Faculty Members
| | | | |
| --- | --- | --- | --- |
| Sl No | Name of the Faculty | Designation | Photos |
| 1 | Dr. Basheerahamed Sikandar | Associate Professor | |
| 2 | Mr. Amarnath Shanmukhe | Associate Professor | |
| 3 | Dr. Satish Nadagaddi | Assistant Professor | |
| 4 | Mr. Manjunath Patil | Assistant Professor | |
| 5 | Mr. Anil Padaganur | PG Nursing Tutor | |
| 6 | Mr. Parashuram V | PG Nursing Tutor | |
| 7 | Mr. Somesh Burukule | UG Nursing Tutor | |
| 8 | Mr. Kiran Shirolkar | UG Nursing Tutor | |
| 9 | Ms. Roopa G | UG Nursing Tutor | |